Savvy business people are using LinkedIn as a PRIMARY source for new leads, new clients and tangible revenue. In fact, for B2B companies, LinkedIn is a critical tool that can make your prospecting faster, smoother and ultimately, more profitable!
There are over 430 million users worldwide
There are over 2 million LinkedIn groups with an additional 8,000 created every week!
40% of users check LinkedIn daily
How bout them sick stats? That's one hell of a database to tap into. But before you go running to this network to "cold connect", you first need to make sure you attract your ideal clientele who's hanging out on LinkedIn.
You need to optimize your profile so that when a possible prospect lands on your profile, they know instantaneously your purpose for being on LinkedIn. Most profiles read as a resume or someone looking for a job. But I got news for you, you're NOT a fricken resume. You're a human being, so you need to connect with your prospects on a very real, human level and it begins with your profile.
Write a Standout Headline
The headline of your LinkedIn profile is highly searchable. I know that NO ONE on LinkedIn is looking for "President of Your Social Media Mentor, Inc." It just aint happening. So I list something more search-friendly that speaks of what I do on a daily basis – and for which people may want to hire me. In other words my profile is KEYWORD RICH, on what I want to be found for.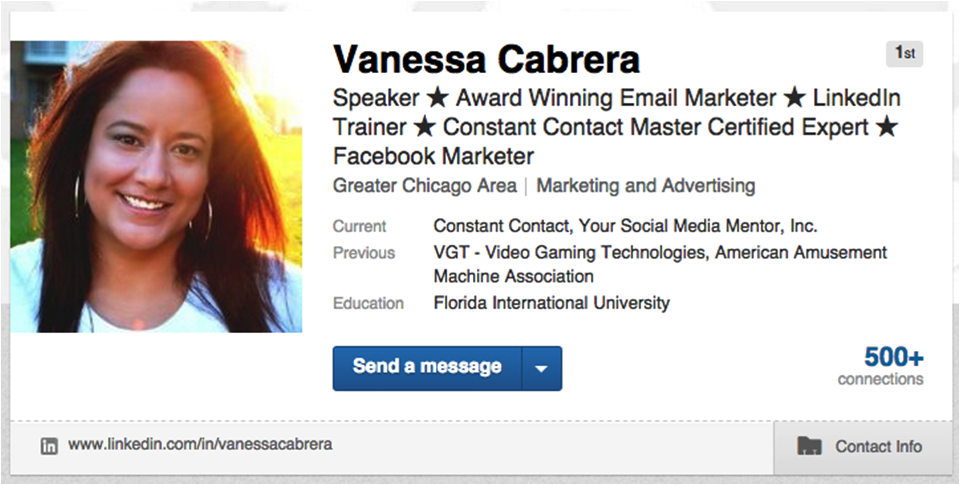 Write a Killer Summary
Whatever you do, DO NOT leave the summary blank or limit it to a few bland sentences. This is your chance to be creative and describe who you are and what you're passionate about! Make it personal, while also highlighting key accomplishments you don't want anyone to miss. I understand writing about yourself can be challenging. You're sitting there staring at a blank screen asking yourself what do I say? Here are some tips to get your writing juices flowing:
Write about your passion. Take your cell phone, hit record and then pretend someone asked you how you got into the industry your in. Or why do you love what you do? And then just start talking. From there you can transcribe that conversation as the starting point to your summary. By doing this your summary will start off strong rather than saying "I have been in XYZ industry for 30 plus years" YAWN!
Know your clientele. Write to them as if you're having a conversation with one person. How can you help them.
Put some personality into it. People want to do business with other people that they like, that they trust, that have proven themselves as the expert in their field. Show them all of this in your summary.
Have a Call to Action
You can't simply expect someone to call or email you. You have to tell them what to do and how to do it. Also, be sure to collect their information (email address) so you can continue to connect with them. Possible calls to actions:
Give me a call
Interested in doing business – then let's connect
Email me and let me know how I can help
Click on my contact info to view my websites
Even a simple message or a question like…
First Time Home Buyer?
Confused about Business Insurance?
Looking for general legal advice?
Confused about LinkedIn?
Build a Multimedia Profile
Most LinkedIn profiles are copy heavy. A lot of text…text…text, right? You can now make your profile pop by adding multimedia files to different sections of your profile. You can add picture files, logos, brochures, videos etc. I would recommend putting your best multimedia profiles in your summary, most client's won't scroll through your whole profile, so make sure it's at the top connected to your summary. I included the 1st slide to my Facebook seminar, a picture of me speaking, my logo, certifications tags I've earned. Even a simple photo of you sitting down having a meeting with a client can go a long way. You want to paint a picture of who you are.
Update Your Contact Information
This may seem like a no brainer, but you'd be surprised how many people either leave this blank or have outdated information. Make sure that if someone wants to do business with you that it is easy for him or her to get a hold of you.