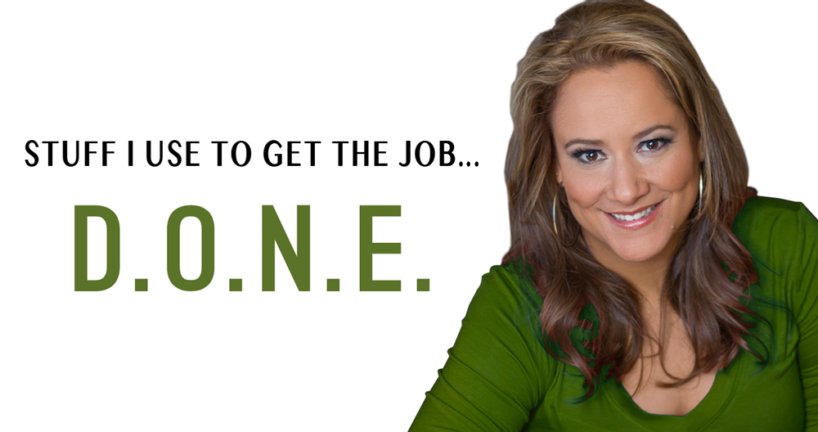 Checkit. I'm asked all the time about the different online tools I use. There are SO many different tools to help you run your business, it can be a bit overwhelming. So I thought it'd be helpful for you, if I just tellya the tools I cannot function without.
As you probably guessed (cause you're a smarty). Some of these links are affiliate links, which means I may get a commission if you purchase. However, none of the fees have been increased to compensate me. If you dig any of the tools, I'd apprecaite if you use my link and I'd be happy to answer any of your questions.
Constant Contact – What I love about Constant Contact is how easy it is to work with. It was designed for the small business owner who doesn't have his/her own marketing department. Sound familiar? It's extremely user-friendly, their automated tools make creating a funnel in minutes easy..easy. Now there's a ton of different email service providers to chose from, and I'll be honest they pretty much all offer and do the same thing, send killer looking emails, right? But! Constant Contact's customer service is OUTSTANDING. No seriously, I have never worked with such friendly people ever! It's very clear they love their job, and love to help people. All that techie stuff can be taught, but you can't teach wanting to help people.
LeadPages – I can't say enough about LeadPages. My business really started to take off when I began to use their incredible landing pages. I use their landing pages for so many things. Opt-in pages, webinar registration, webinar replay pages, waiting lists, thank you pages. Not only are the pages easy to customize to match your brand, but they test these pages and are created and built to to increase your conversions. PLUS you can integrate any of your pages with WordPress. SA-weet.
Social Media Campaigns: Wishpond – I used Wishpond for a # Instagram Photo Contest campaign. And it worked like a charm! It integrated beautifully with my client's email service provider, it was super easy to set up and monitor all of the contestants. For more information on how I used Wishpond, feel free to view my webinar Co-Hosted with Wispond: How to Increase Followers on Instagram Using Contests and Constant Contact.

Social Media Management: Hootsuite – Do you have time to post on ALL your social media platforms? Yeah, me neither. I love Hootsuite's automated capability. Say you follow a certain blog within your industry, and you're constantly sharing their content. You can set it via Hootsuite so that anytime a new blog is posted it automatically is posted to your social media channels. So it looks as though you're posting in real time!
Canva – I LOVE CANVA! Canva is a design tool you can use to design anywhere from Instagram posts with text overlays, to incredibly professional looking guides. And it takes the guess work out as far as dimensions. Hallaluyer! They have templates for Facebook cover photos, Twitter Header, Tumbler Banners and a ton of other templates you can use. I've created email headers, killer white paper covers, youtube thumbnails. So sick!
Webinar Ninja – where I put on a show :). One of the many things I love about webinar ninja is that it's super easy to use. You can test out webinars before hand by yourself, and not only see what the webinar looks like, but you can also look at it from the attendee perspective. And I love how you can have a guest host on! Sa-Weet!
SamCart – payment processing. But it's SO MUCH MORE THAN THAT. I cannot say enough about SamCart. When I first started to sell my digital products, the biggest nightmare I thought I'd have to deal with was Ecommerce. How are my customers going to buy? Did I need a new website? A shopping cart? Just thinking about it gave me a headache. And then the clouds parted and my love affair with SamCart began. If you want to sell anything, you literally can have a checkout page up and ready in about 5 minutes. No joke! They can pay with a credit card, paypal. The checkout page can be customized to fit your branding, you can include testimonials, you can have 30 day, 90 day guarantee. It's awesome. So sick!
Evernote – Think of Evernote as an online notebook, but it's SO MUCH MORE. I use Evernote to manage my client's projects. Each client has their own notebook, and from there I add in notes to the notebook on perhaps a meeting summary or a conference call summary. I can write another note of action items for both me and my client. I can then email my clients that note. You can also chat via Evernote. Attach items to a note and send it to them. And it syncs will all of your devices. If Evernote were to go away tomorrow, I would probably die.
Acuity Scheduling – My clients have actually complimented me on my online scheduler. I cannot tell you how much time this tool has saved both me and my clients. I never again have to ask "what time works best for you?" My clients can quickly view my real-time availability, because its syncs beautifully with my Google calendar, and they can self book their sessions. They automatically get reminder emails of our appointment and they can even reschedule with one click. PLUS my acuity scheduler even keeps track of every client I've had a meeting with!! What What? So then guess what I can do? I can export that list and then send a targeted email campaign to them. And so much more!!!
Dropbox and Google Drive – To store my world. Not only are they both free (using free version of Dropbox), but both are secure. Dropbox is my go to for sharing files with VA's, video editors, partners etc.
Interested in learning how to use these tools to grow your business?